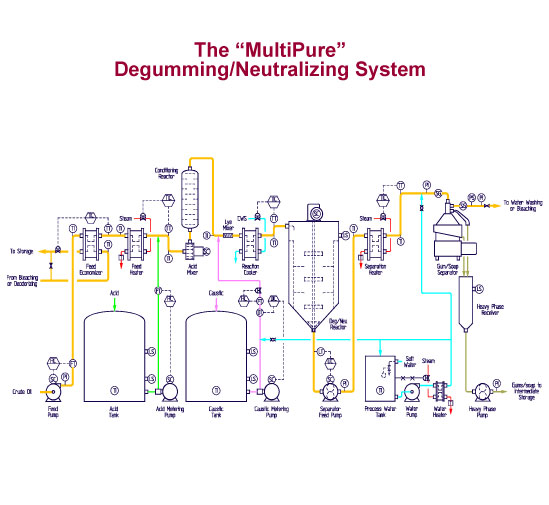 Equipment Brochure
MultiPure Degumming/Neutralizing System:
Features and Advantages
Multi-purpose system designed to handle multiple degumming and neutralizing applications

Reactor with variable retention time and agitation for optimizing both degumming and neutralizing processes

Low levels of residual soaps (in neutralizing) enables replacing water washing step with special soap adsorbing materials in bleaching

High shear variable speed mixer for intensive mixing of oil and reagents

Conditioning Reactor to ensure maximum precipitation of non-hydratable gums before caustic addition

Self-cleaning separator for truly continuous operation
The system is designed for both neutralizing and various forms of degumming (typically as part of physical refining).
Neutralizing: The incoming oil is first heated in the Feed Economizer by outgoing bleached or deodorized oil or in the Feed Heater during start-up. Next it is intensively mixed with phosphoric acid in the high shear Acid Mixer (Acid Conditioning) to optimize precipitation of gums and trace metals. When appropriate the oil temperature is reduced in the Reaction Cooler. Caustic soda solution (lye) is mixed with the conditioned oil in the Lye Mixer, which neutralizes the acid as well as the free fatty acids in the oil.
The treated oil enters the Degumming/Neutralizing Reactor where the reaction continues and the soap and precipitated materials agglomerate. The mixture of oil and soap flocks is gently discharged via the Separation Heater to the Gum/Soap Separator. There the heavy phase soap with entrained impurities is removed and sent to intermediate storage.
The neutralized oil is sent directly to bleaching if this process incorporates the use of soap adsorbing adsorbents to supplement regular bleaching earths. If not, the oil must first be water washed, i.e. heated, mixed with water and centrifuged in a second separator not shown in this drawing.
Degumming: When applied as the first step of physical refining, the process depends on the type and quality of the feed stock. Most oils can be treated in a fashion similar to neutralizing. The main difference is that the amount of caustic is reduced to the point that the acid added to the oil is neutralized and only a small amount of soap is created in the oil. This method is referred to as Special Degumming.
In some cases, such as when processing certain expeller pressed and organic oils, it is not necessary or acceptable to enhance the removal of gums by adding caustic. This process is called Acid Degumming and typically uses using citric acid. In other cases, such as when physically refining oils with low gum contents, the conditioned oil does not need to be centrifuged and can be sent directly to bleaching from the Conditioning Reactor. This process is referred to as Acid Conditioning or Dry Degumming.
Process Description: