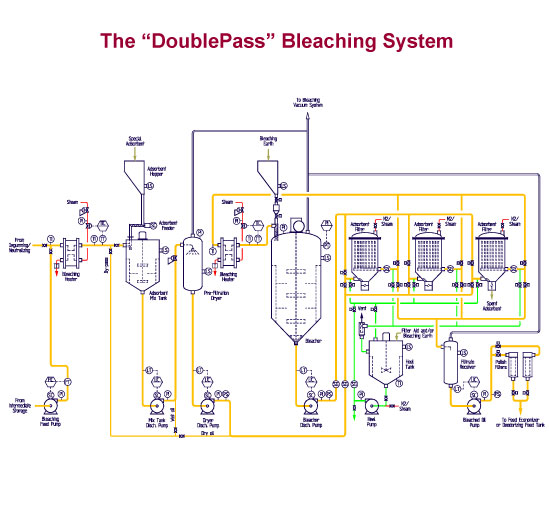 Double Pass Bleaching System:
Pretreatment with special adsorbent (silica) removes soap from neutralizing and eliminates water washing
Separate filtration of spent adsorbent before adding bleaching earth removes soap and gums reducing earth consumption by up to 20%
Pre-bleaching of incoming oil in filter already partially filled with a packed bed of still active bleaching earth reduces earth consumption by up to 30%
Special oil and earth mixing chamber in Bleacher prevents dust from entering vacuum system
Optional vertical or horizontal tank filters
Optional mechanical or steam agitated bleacher
Process Description:
Incoming degummed or neutralized oil is heated in the Bleaching Heater before entering the Adsorbent Mix Tank where it is mixed with a special soap and gum attracting adsorbent (silica). The oil and adsorbent mixture enters the Pre-filtration Dryer where the moisture in the oil and adsorbent is evaporated.
The dry oil and adsorbent mixture is filtered in one of the three Adsorbent Filters removing the spent adsorbent. This filter has previously been used to separate bleaching earth and already has a layer ("packed bed") of earth on the leaves that is still active. This first filtration results in a "press effect" that starts the bleaching process (Pre-Bleaching) before fresh earth has been added. When combined with the silica treatment, this reduces earth consumption by as much as 50%. In cases when the special adsorbents are not available, the Mix Tank and Discharge Pump are simply by-passed. Most of the savings from Pre-Bleaching are still realized.
The filtered oil is further heated in the Bleaching Heater before entering the Bleacher where it is mixed with bleaching earth.
The earth adsorbs pro-oxidants, color bodies and other residual impurities. The Bleacher has multiple agitated compartments and also operates under vacuum to ensure complete moisture and air removal.
The oil and earth mixture is filtered in another one of the three Adsorbent Filters. The bleached and filtered oil is sent to intermediate storage via one of the alternating Polish Filters and, typically, an economizer located upstream in degumming or neutralizing.
The system includes three filters of which two are on line (one for adsorbent and pre-bleaching, the other for bleaching earth) while the third is being cleaned and prepared for the next cycle. A filter begins its cycle by filtering oil from the Bleacher. When a layer of earth has been accumulated on the filter leaves, the flow from the Bleacher is switched to a fresh filter. The partially filled filter, now with a "packed bed" of bleaching earth, is then ready to be used for removing adsorbent as described above. When the filter that is on line for this purpose has reached its maximum capacity it is taken off line for cleaning and replaced by the next partially filled filter.
Features and Advantages