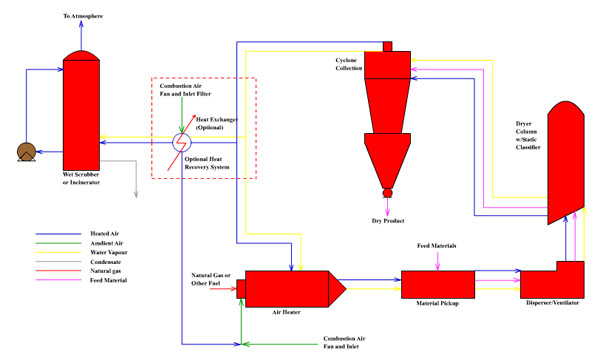 Flash Dryers:
For the efficient drying of a wide range of fine and coarse materials including Fibers, Fish Meals, Clays Metallic Powders, Pigments, Polymers, Grains and Starches.
Laboratory fluid bed drying equipment - Features & Advantages
Once through flow of product, protects temperature sensitive materials.

Material evenly dispersed in hot air streams, uniform product treatment.

Static classifier sends finer dry material directly to the product outlet, and keeps larger particles in the air stream until dry.

Controlled residence time is adjustable to provide sufficient time for drying or for other chemical reactions.

Disperser ventilator breaks up large agglomerates without producing fines.

One moving part in airstream minimizes maintenance costs.

Vertical construction minimizes floor space.

Plant proven design ensures minimal operator attention required.

Energy efficient complete Custom Engineered Drying Systems.
Click here for flash drying equipment brochure.
Laboratory fluid bed drying equipment - Process Description
Material is introduced into the hot air stream in a venturi or tube feeder. The hot air and product are conveyed into the Disperser/Ventilator which breaks up large agglomerates and further completes the mixing process between hot air and product.
The hot air and product then enter the vertical column and static classifier where the bulk of the drying takes place. Smaller particles dry immediately, and report to the outlet of the dryer to be conveyed onto the product collection system. The coarser, still wet product is retained in the dryer column until it dries, at which point it is conveyed to the dryer outlet. Large agglomerates tend to collide with each other, thus exposing the wet material to the hot air.
Gas heating can be indirect via steam or hot oil or direct fired. Combustors can be designed for gaseous or liquid fuels with controls set up to meet IRI, FM or local standards. The system controls are set up to run in an either manual or automatic mode, with PLC's used to control the start up and shutdown sequencing if desired.
Statistics for our fluid drying equipment process
| | |
| --- | --- |
| Drying Process: | Continuous, direct contact heat transfer from hot gas to product |
| Drying Media: | Air, Nitrogen, superheated steam |
| Inlet temperature range: | 250 to 1,800 |
| Outlet temperature range: | 180 to 240 |