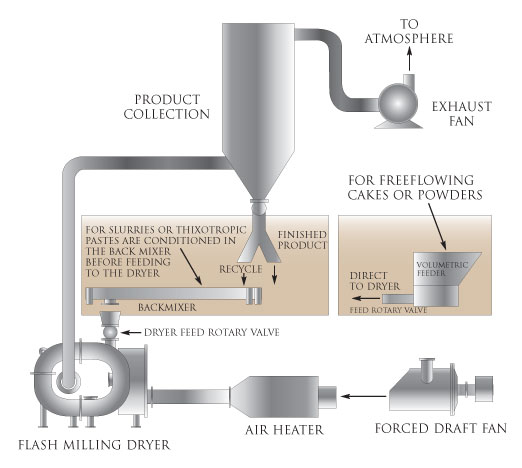 Milling Flash Dryers:
For drying of powders, filter and centrifuge cakes, backmixed slurries, pigments, zeolite and calcium carbonate where a discrete and fine end product is desired. The milling flash dryer generally delivers a fine end product that does not require further milling. No moving parts.
The milling flash dryer uses low-pressure jets of hot air to break materials down to their elemental particle size. The milling flash dryer is designed based upon jet milling principles and uses no moving parts in the milling or classification area of the dryer. The milling dryer essentially prevents agglomerates from forming during the drying process and oftentimes provides a finer product than traditional mechanical milling dryers.
Abbreviated Application List:
Specialty Chemicals

Food Grade Fibers

Starches

Metallic Carbonates

Oxides