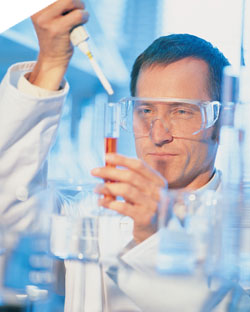 The Crown Iron Works Research & Development Lab, located at our corporate office in Roseville, Minnesota, is our commitment to you for continual engineering improvement.
The facility consists of a preparation building and an explosion proof building to house our extraction processing equipment. In the area of preparation the pilot plant can continuously hot dehull, crack, aspirate, flake, extrude, expell, hammer mill, and dry/condition material before extraction. In the area of extraction, Crown's Models III, IV, V, and our new Continuous Supercritical Extractor are being put on line in such a way that the prep area can feed to any of the four extractors. These four extractors have the capability of feeding to either our traditional desolventizer or our edible desolventizing systems. In the area of refining, we have an interesterification, hydrogenation, and winterization skid along with another for refining, bleaching and deodorization. In addition to the above areas Crown has other R&D technologies that are being piloted in our facility.
A strong commitment to Research & Development, with the addition of the explosion proof extraction area, Crown can demonstrate current and future processes to our clients. We also see the opportunity for this facility to aid in the research of new processes and projects. We have made large investments in the past and are continuing to add to these investments to build a facility that will operate as close to a real production plant as possible. Clients can come to our facility in the strictest of confidentiality and perform their experiments. Again, Crown is doing its best to provide clients with a place to refine their ideas and pilot test them before risking capital expenditures.