Crown Zero Emission Discharge System (Z.E.D.S.)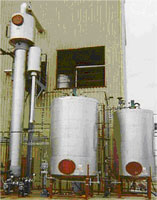 The unique Crown Zero-Emission Discharge System (ZEDS) is designed to eliminate the waste water from your extraction plant. The waste water is concentrated in specially-designed pressure vessels and converted to 40 psig steam for 100% reuse in the extraction plant. Blow down water from the cooling tower can also be added for further savings. Not only will you be able to save on waste water treatment costs, but this system also lessens the need for boiler chemical treatment.
Click here for ZED equipment brochure.